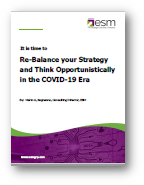 The recession of 2020 is now recognized as the worst economic recession since the Great Depression of the 1930s.

Many organizations have had to close their doors with others soon following suit without substantial government intervention. And, it has been only a few months since the initiation of these economic hard times in the USA. For those organizations that will survive, they are looking forward to a long recovery to regain pre-2019 economic levels.
It is during such times of economic hardships organizations need to first, survive the crisis; and second, pursue offensive strategies to position the organization for the new economic reality.
This article addresses the long view focusing on what can be done today to create competitive advantages as the economy inches its way back to economic recovery.