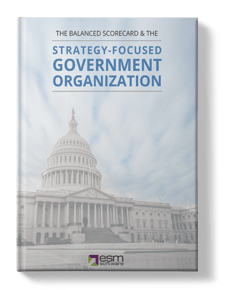 Implementing change in government organizations — often large, top-heavy groups that must serve equally large (and diverse) constituencies — involves unique challenges. Cash-strapped and often understaffed, these organizations have had fewer resources than companies in the private sector with which to achieve transformation.


Some organizations have shifted from an incoherent, bottom-up approach to a systemwide, integrated approach to strategy management. Once awash in metrics, many organizations have now streamlined their measures and now can see cause-and-effect relationships for the first time. They're able to allocate scarce resources more wisely and more objectively, thereby further promoting teamwork.
Depicting strategy and goals. Identifying cause-and-effect relationships. Fostering alignment. Because it has such capabilities, the government Balanced Scorecard has been increasingly embraced by government organizations looking to resolve their unique challenges.
The organizations featured in this eBook have achieved new efficiencies and a newfound effectiveness through the Balanced Scorecard approach.
Inside, you'll learn how the Balanced Scorecard helps government organizations:
Improve strategic readiness
Make budgetary operations more efficient
Deliver quality services to the public
Retain top leadership talent
Build strategic public-private partnerships
Improve decision-making
Overcome common challenges and limitations