Typically, the first step in implementing an employee performance management process is creating a methodology for aligning employees with the organizational strategy. The next step—often a greater challenge—is implementing a system to efficiently and effectively manage this process.
Traditional methods are a good start, but not sustainable.
Many organizations start out with traditional desktop programs such as Microsoft Excel, Word, or PowerPoint to cascade their corporate or business unit scorecards to the individual employee. However, with such software the process can rapidly become cumbersome, laborious, and time-consuming. The manual nature of these applications requires managers and employees to rely on e-mail or printouts to exchange personal BSCs and personal development plans (PDPs) each time these documents are updated. The result: version control problems, which, in turn, can lead to errors and miscommunication. Moreover, managers must repeat this process for every one of their employees. Employee performance management quickly becomes unwieldy, particularly for large organizations and managers with many direct reports.
As with a traditional Balanced Scorecard cascade, technology can streamline the development as well as the ongoing management of a BSC-based employee performance management program. Organizations face a common pitfall: allowing the technology to define and drive the process, rather than letting the process define the technology requirements. Recognizing this risk is critical. Many organizations find themselves following a methodology that not only does not conform to their desired management process but also that creates near-crippling obstacles.
Beware of the Common Technology Pitfalls
The greatest obstacle to implementing an employee performance management process isn't the methodology—it's the technology platform that supports the process. Organizations usually get into trouble either by opting for a low-tech approach (thinking it will be simpler and cheaper), or by picking a sophisticated platform based on its robustness— without verifying how well it can adapt to the organization's approach. Let's consider two examples that highlight the pitfalls of rolling out a performance management process without the right technology infrastructure. Using the right technology platform can make or break your success in this process.
The failure of low-tech: no standardization or centralization; too time-consuming.
FINCO (a disguised name), a West Coast–based financial services firm with six business units and about 10,000 employees, used desktop applications (such as Microsoft Office) to support its employee performance management process. The process involved an annual performance review for merit increases as well as for assignment transfers (common at FINCO, where biannual job rotation was encouraged). Performance management documents were not standardized within or across business units; all told, FINCO used 12 different documents. This resulted in different performance management processes even within business units, with no consistency from one employee to the next. Forms and templates were complicated, taking hours to format and complete. Because the questions were unstructured, making no direct connection between the individual and the strategy, employee responses invariably appeared as laundry lists of personal goals and job specific tactics. As a result, employees often had to revise their initial submission multiple times, which led to version control and other headaches for their managers. FINCO's performance management process ended up taking an average of four months per employee for the year, roughly four times as long as it should have taken with the right platform. Employees grew dissatisfied with process that was central to their growth, and perhaps more important, FINCO lost a precious opportunity to establish employee focus and alignment.
Robust is not enough: flexibility is everything.
PharmX (also a disguised name), an East Coast pharmaceutical firm with 55,000 employees, adopted a sophisticated, off-the-shelf platform to support its performance management process. Although highly scalable, it could not be customized. The company was forced to live with the application's default terminology, which was foreign and confusing to employees. Moreover, because it was inflexible, the software could not be linked to PharmX's strategic reporting system, and the company had to modify its methodology to fit the tool. This, in turn, forced PharmX to deviate from many of the best practices that it had initially embedded into its performance management process. For example, the application did not allow any line of sight to business unit strategic objectives, so employees had to create their individual goals in isolation. In addition, there was no ability to create quantitative measures and targets for each goal; goals could only be expressed textually and qualitatively. Thus, tracking progress was a primarily subjective exercise. Finally, due to an absence of built-in administrator reports, managers and HR personnel had to manually build most performance reports. This increased the effort required to support the performance management process exponentially and made it difficult for PharmX to use performance results to drive strategic decisions. Despite its ostensible robustness the technology was so rigid that it prevented PharmX from realizing the true value of a strategy-focused performance management process.
What Works: Keys to an Optimal Platform
While there is no one-size-fits-all solution, these fundamental guidelines will help your organization implement a platform that will support, not thwart, your performance management methodology—and help generate results.
Aim for standardization.
A standardized performance management process with uniform forms and templates enables centralization through a common technology solution. This drastically reduces the time needed to set goals, approve plans, and conduct reviews, while streamlining administrative steps.Standardization and centralization also enable greater data comparability; each employee's performance can quickly and easily be contrasted against the performance of other employees.
Seek flexibility.
Whatever solution you choose should be adaptable to your organization's specific performance management approach. Linking employee goals to business unit objectives is essential, and the underlying technology must be able to support these linkages, while also being flexible enough to let you track "unlinked" strategic goals—those personal goals that, while not linked directly to a "parent" BSC objective (unit BSCs show only a select few objectives), are nonetheless strategically important in the employee's execution of his or her job.
ESM+Perform was designed with best practice performance management workflows and offers flexibility to adapt to your company's culture.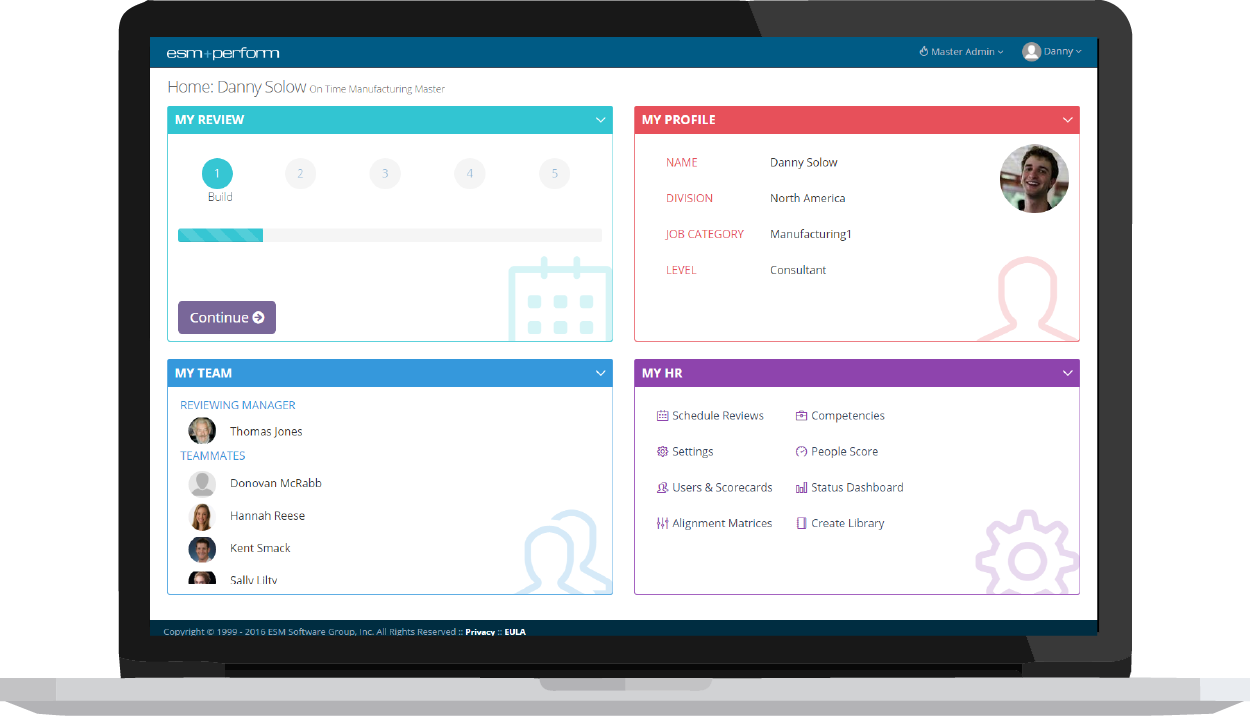 As you embark on your journey for developing the right performance management process for your organization, remember:
1) Employee performance review software supports the process, not vice versa.
2) Employee review software should standardized and scalable leveraging your organization's language, branding, and other key cultural components.
For best practice tips on the employee evaluation process download ESM's Free Webinar: Linking Strategy to Employee Performance.
Adapted from "Avoid the Common Technology Pitfalls of the Employee Performance Management Process," Balanced Scorecard Report, by Keith Katz and Travis Manzione.