Strategy just got Real
ESM is the all-in-one platform built to drive results.
STRUGGLING TO TURN STRATEGY INTO RESULTS?
RALLY YOUR TEAM AND EXECUTE WITH CONFIDENCE
!
ESM's integrated suite of cloud-based applications was built to meet your strategy and execution needs.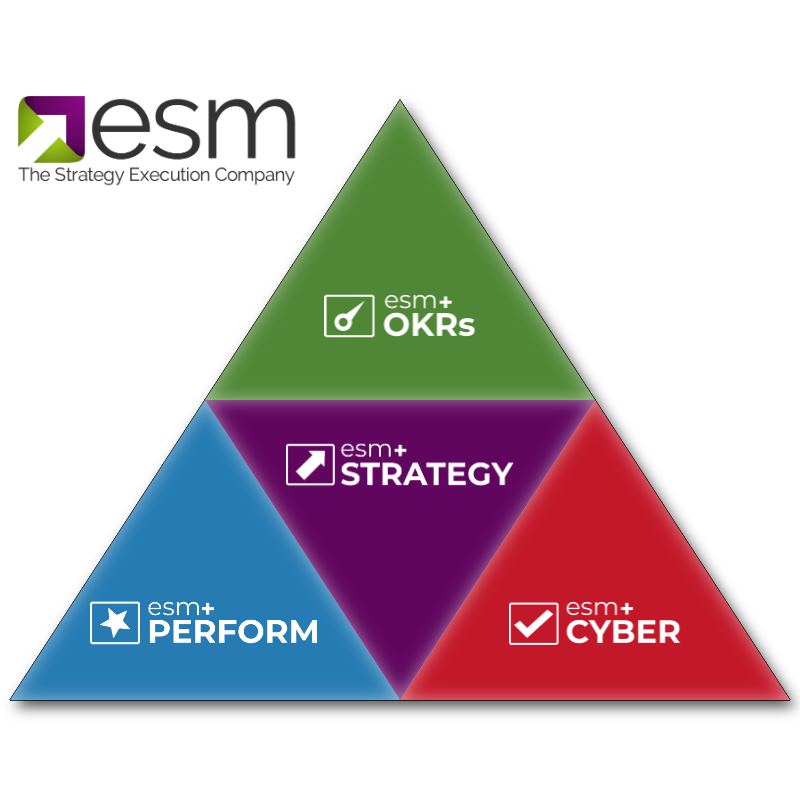 ESM Software helps teams design, execute, measure and optimize their strategic plans with industry leading software and coaching.

Define, Report, and Execute Strategy
ESM+Strategy empowers teams to formulate, track, implement, and communicate their strategy leveraging the Balanced Scorecard framework.
---

Get Work Done
ESM+OKR focuses on the Objective Key Results methodology to help organization tactically get work done, whether strategic or operational. EMS+Strategy links to ESM+OKR to ensure incorporated Agile based project management.
---

Manage Employee Performance
ESM+Perform empowers employees to build and link Goal Plans and Developmental Actions to the organizational strategy. 360 degree reviews, culture surveys, and team goals drive accountability and make the strategy actionable with individuals.
---
Manage Risk / Compliance
ESM+Cyber enables organizations to manage risk, compliance, cybersecurity posture, or virtually any type of policy that uses controls and standards.

BEST IN CLASS FUNCTIONALITY
Built to make your job easier
Each of the ESM products take advantage of core functionality designed to create a friendly user experience that can be easily tailored to your organization's unique needs.

Analytics
Analyze data and answer key business questions using drag-and-drop dashboard and reporting capabilities.


KPI Tracking
It's easier than ever to create and track any pertinent key performance indicators with ESM's flexible online datasheets and sophisticated formula engine.

Integrations
There's no need to hunt down source data. With ESM Open Web Services you can link directly to other systems and data warehouses.

Governance
Track ownership and accountability of initiatives, tasks, and milestones in one shared calenda. Link to popular email/calendars and Project Management solutions like MS.

Alerts & Notifications
Notify users when information requires updates, deadlines are approaching and when metrics are out of tolerance.

Exports
Export data from ESM into other reporting tools or generate meeting ready reports and briefing books just the way you want them.



Permissions
Robust permissions model ensures that team members can only see and do what you want them to.

Documents
Store critical information in a centralized repository. No more hunting down forecasts, budgets, operational reports of all types will be easy to find.

ANALYTICS
Powerful analytics and drag-n-drop dashboards allow you to measure what matters most to your organization
Create and share interactive dashboards with everyone that needs to know.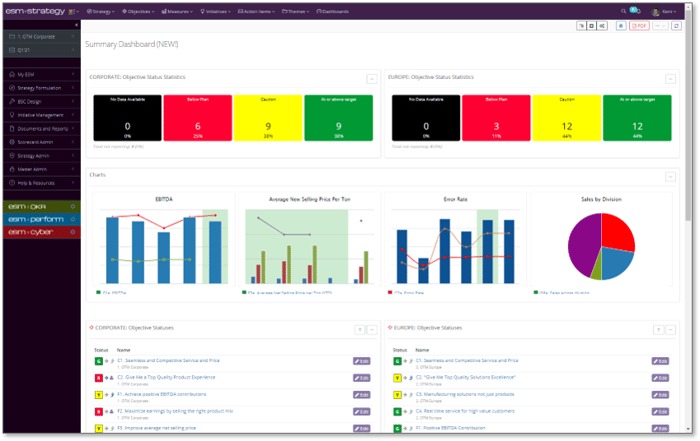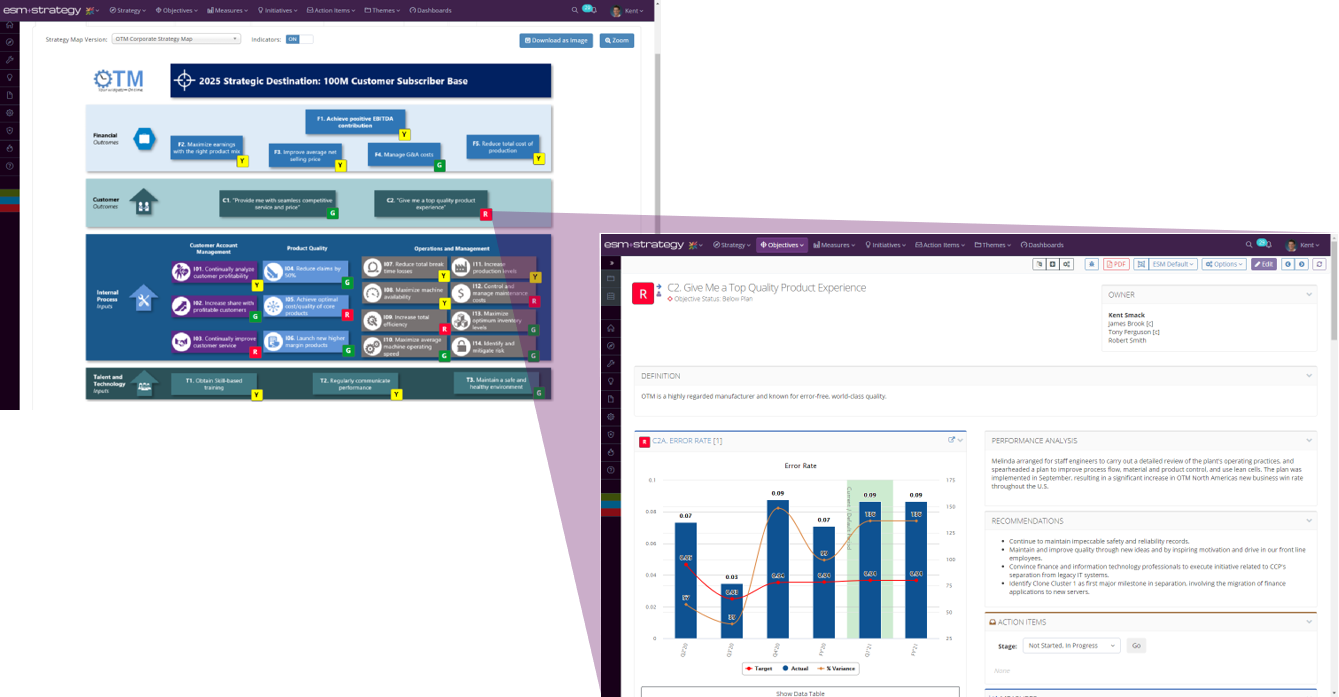 SUMMARY AND DETAILED VIEWS
It's all at your fingertips
Start high and drill into the details. From strategy maps to dashboards to detailed initiative views, be in control of your strategy.
EASY MEETING PREPARATION
Point-and-click presentations and executive briefing books take the pain out of meeting preparation
Create and share interactive dashboards, reports and analysis with everyone that needs to know.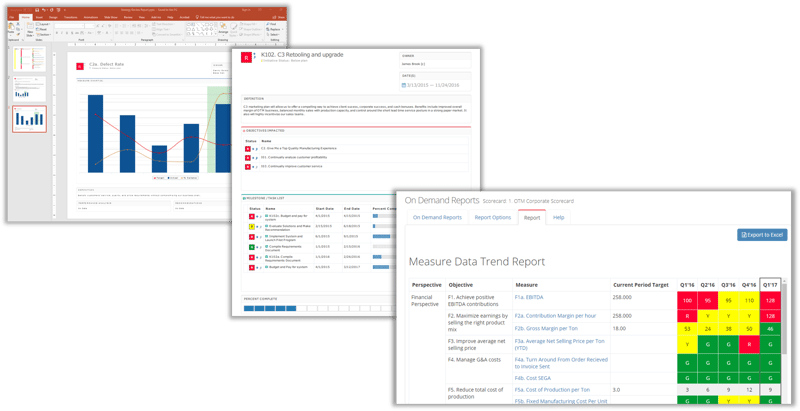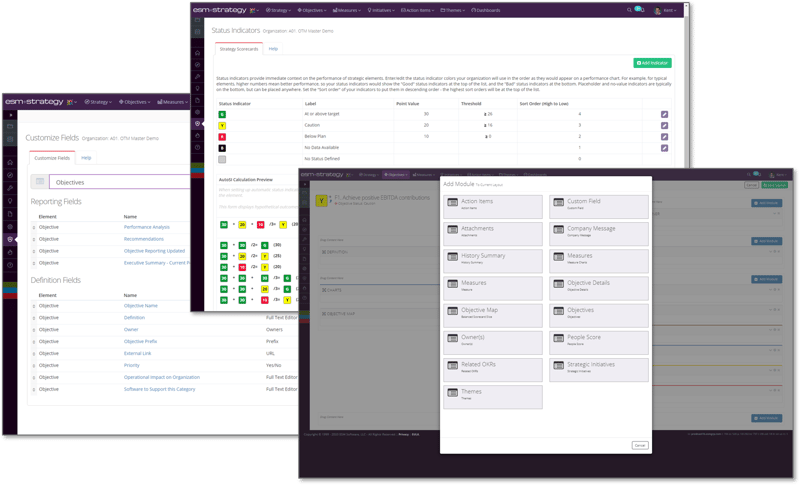 TAILORED TO YOUR BUSINESS
Configuration is easy with ESM admin tools
You can tailor ESM to you're your industry, your business and your needs with customizable interfaces and flexible data capture.
DATA INTEGRATION
Need to get data into ESM or take data out? No problem.
You choose the way you want to interact with the system.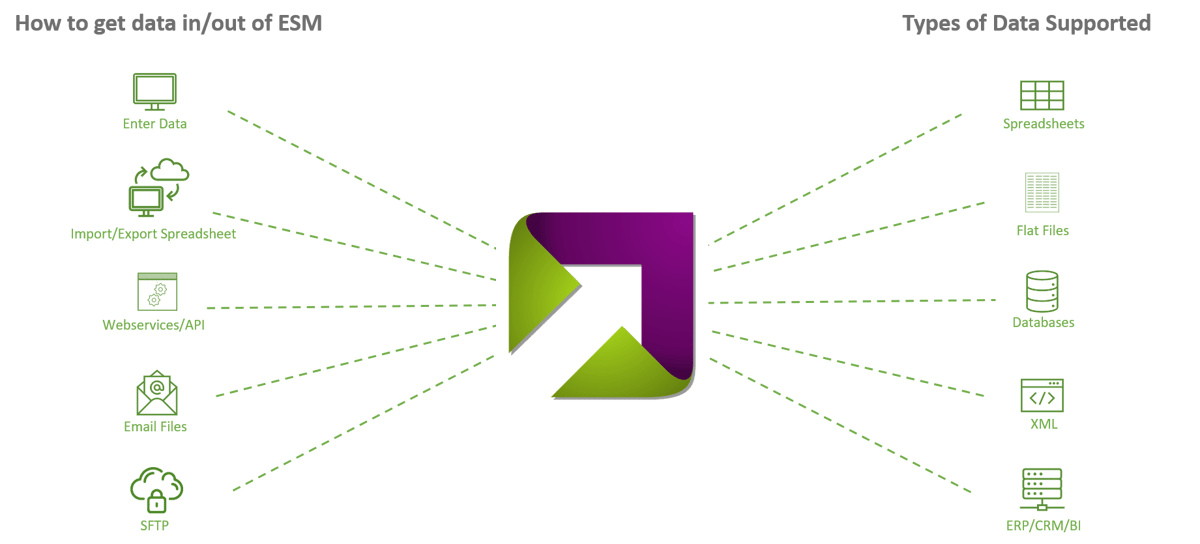 GOVERNANCE
Governance done well creates an honest, open environment where strategic goals are met
ESM promotes alignment, accountability, agility, innovation and execution empowering executives to confidently allocate the resources needed to achieve strategic objectives and course correct when necessary.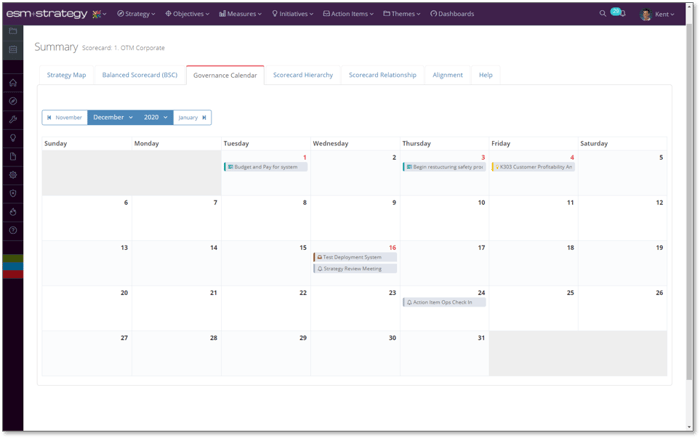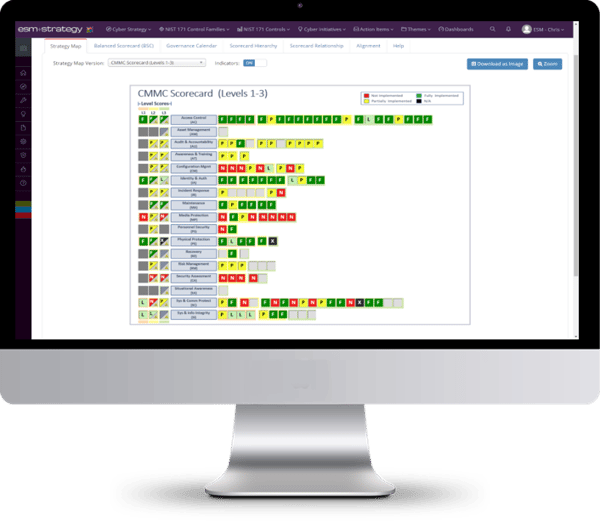 RISK MANAGEMENT AND COMPLIANCE
Risk, data privacy, and cybersecurity compliance are hot topics for corporate boards and executive teams
With ESM, you can track numerous compliance, cybersecurity, data privacy, and risk frameworks then easily communicate with the board and executive team in terms they care about.
DATA PRIVACY AND SECURITY
Rest assured, your data is safe with ESM
ESM uses a variety of methods to ensure that your data is safe, secure, and available only to the registered users in your organization that need to access it.

ESM is ISO27001 certified.

ESM is hosted on AWS FedRamp compliant infrastructure with failover and redundancy across regions.

ESM uses Secure Socket Layer (SSL) technology to protect your information using both server and data encryption.

ESM has implemented a robust permissions model to restrict access to functionality and data within the system.