Strategy Review Meeting Frequency
When we kickoff an ESM implementation, one of the toughest challenges is finding the right schedule and frequency for strategy review meetings. Frequency, scheduling, and logistics are far from the sexiest challenges that you'll need to solve to get your strategy meetings off and running, but they are absolutely critical to a successful strategy execution process. If this is your first time kicking off a strategy management system, I'll go ahead and ruin the drama now: you should probably consider starting with a quarterly review meeting. As ESM and Balanced Scorecard founders Drs. Kaplan and Norton have noted, quarterly reviews typically allow for enough time to collect measure data, for objective owners to provide analysis, and for a report to be generated out ahead of the meeting.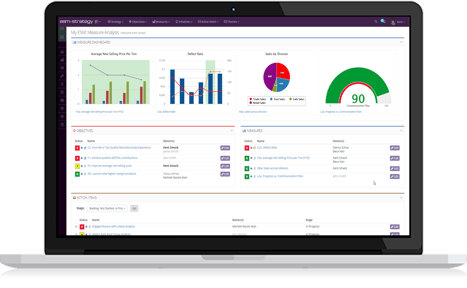 With all of these moving pieces, the review meeting will typically fall between 3-6 weeks after your quarter officially closes.
Here are a couple of questions you probably should ask as you are looking to set your governance calendar.
When are your financials available? – Financial data availability will kickoff the quantitative side of reporting in any system. Make sure to set deadlines one-two weeks after the data becomes available.
Do you have other major reporting deadlines for your organization? – Are there other operational or management process reviews that take place around the same time?
When is your busy season? – We're shooting for discipline around our review meeting process, but let's be reasonable. If its monsoon season and you're in the umbrella business, your whole team is probably in the weeds. Maybe have a short review that quarter where you target a couple of objectives to discuss in your performance management. Don't kill yourself with strategy process when you're underwater with your operations.

Once you've decided on your frequency, start to put together an agenda. As I've written before, think carefully about your SRM structure and agenda.
While quarterly reviews are a good starting point for your governance calendar, we also recommend more frequent initiative reviews to open up transparency between how your projects are connected with your larger strategy.
Interested in improving your review agenda and report documents? Check out our free report samples and templates to help you get started with your review meetings.
---