According to a study conducted by McKinsey & Company, 70% of all strategic change initiatives fail.1 On average, ineffective change management costs organizations $109 million for every $1 billion spent.2 However, even with strategic management programs in place, such as the Balanced Scorecard (BSC), organizations still seem to under perform. If we believe the Balanced Scorecard is a powerful vehicle for change management (we do), then how do we explain these shortcomings and how can you avoid them?
Learn more about managing strategy by downloading our Communicating Strategy White Paper.
---
Failure to complete strategic initiatives often directly results from a lack of employee involvement and engagement in the change management process. Rather than investing in an organization-wide initiative for change, strategy management systems are often managed by just one or two employees. Not only is it inefficient for the Balanced Scorecard system to be managed by a handful of employees, but also it is impossible for real action and change to occur if all employees are not aware and involved with the strategic process. A byproduct of under-resourcing your Balanced Scorecard is that strategic alignment and communication may suffer.
In order to be successful, strategy management programs must involve all employees of the organization within the performance management. We can boil the reasoning down to two main points:
1. Efficient change can only occur if all employees are exposed to the strategy
A single employee cannot effectively manage a balanced scorecard. By utilizing full employee involvement in the strategic management process, responsibility can be delegated at each level of the company. Then each level can organize strategy review meetings, as we've explained previously, to review at the individual level and corporate level. Not only does this allow each employee to have an in-depth understanding of the organization's vision and strategy, but also it allows for the company to execute strategy uniformly and communicate each step accordingly.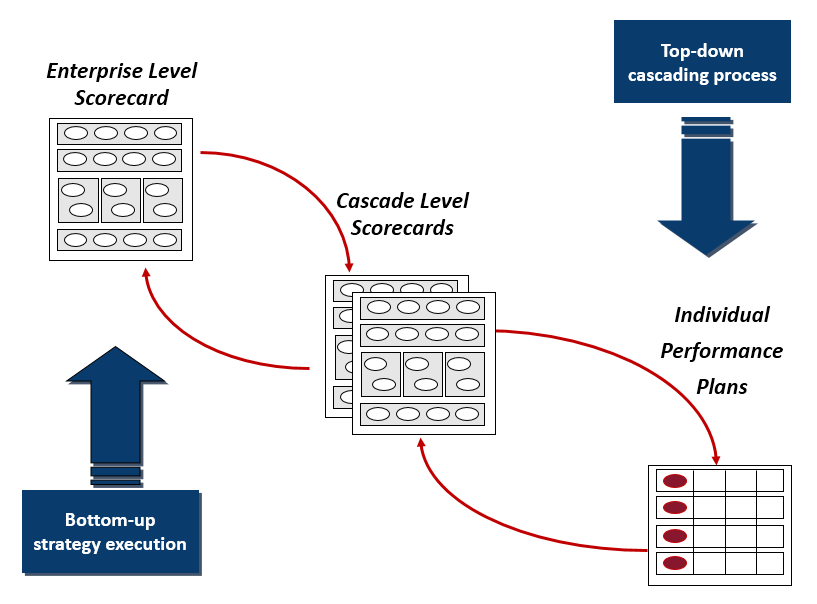 2. Strategic management programs can only elicit a culture shift within the organization if all employees are involved
By creating an enterprise-wide system of communication and responsibility, organizations are able to radically alter the nature and value of the company. By clearly communicating how an employee's role impacts the strategic plan, individuals become empowered to take initiative and prompt innovation and change within the organization.
An organization using a single scorecard could reach out to over one hundred employees by assigning ownership out for all its scorecard components (~20-25 objectives, 35-40 measures, 15-25 initiatives and dozens of milestones on any given scorecard). This level of participation and responsibility will begin to drive the communication, understanding, and execution of the strategy, ultimately eliciting effective change within the organization.
---
1McKinsey Quarterly, "The Irrational Side of Change Management," April 2009
2Project Management Institute, PMI's Pulse of the Profession: The High Cost of Low Performance, February 2014