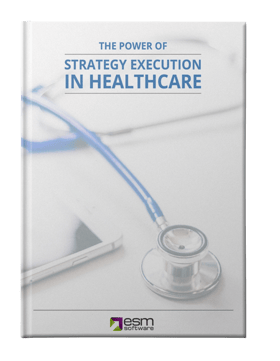 Progress in the healthcare industry has contributed to remarkable improvements in life expectancy, quality of life, and care. However, a growing share of the U.S. national income goes to healthcare. Can healthcare systems reduce growing costs will still maintaining quality of care?
Few healthcare leaders are using strategic planning and execution effectively. To improve performance, an explicit strategy with clear objectives must be communicated to employees and external stakeholders. Healthcare key performance indicators must be derived from those strategic objectives. A portfolio of strategic initiatives must be designed to help employees achieve targeted performance.
As with all other enterprises, organizations that incorporate proven measurement tools and a comprehensive management process into their healthcare business strategy can simultaneously reduce risk, improve their financial performance, lower costs, and vastly improve the clinical outcomes of their patients.
In this eBook, you'll learn how sound planning and strategy execution using the Balanced Scorecard management system can cut costs, increase productivity, and optimize care in a healthcare setting.
You'll also learn about the following topics:
Viewing Healthcare as a Business

How to Forge new Partnerships

How to Use the Balanced Scorecard in Healthcare