Healthcare strategy execution is tough
With healthcare costs on the rise, organizations face the dilemma of simultaneously trying to reduce their costs while increasing the quality of medical service. We work with many healthcare systems where these competing objectives often resemble Newton's Third Law of Motion, where for every action, there is an equal and opposite reaction. In other words, the objectives work against each other.
In order to successfully both decrease costs and increase medical quality, organizations need to link these goals together via a clearly defined business strategy that functions alongside day-to-day operations.
Easy enough, right? While most organizations already have some sort of strategic planning in place, the complexity of the healthcare space requires a methodology to translate the plan into reality. At ESM, we teach and practice the Kaplan-Norton Balanced Scorecard methodology (because it works), but ultimately you'll need to find out what system works for your healthcare organization. Regardless of how you prefer to manage strategy, the following four steps and the right tools will be critical to a successful strategy execution system.
Check out our Healthcare Strategy Execution 101 White Paper for more strategy best practices, in-depth research, and analysis.
Clearly articulate a uniform strategy across the entire organization
Organizations must create a uniform strategy for all teams to operate under. This unified strategy functions as an anchor by which measures can be set and actions can be taken. By developing a strategy using the Kaplan-Norton Strategic Perspectives (Financial, Customer, Process, and Learning & Growth), leaders have a logical mental model to follow while developing strategies focused on "where the organization is going" and "how it will get there," mitigating risk and allowing for long-term and sustainable solutions in their performance management.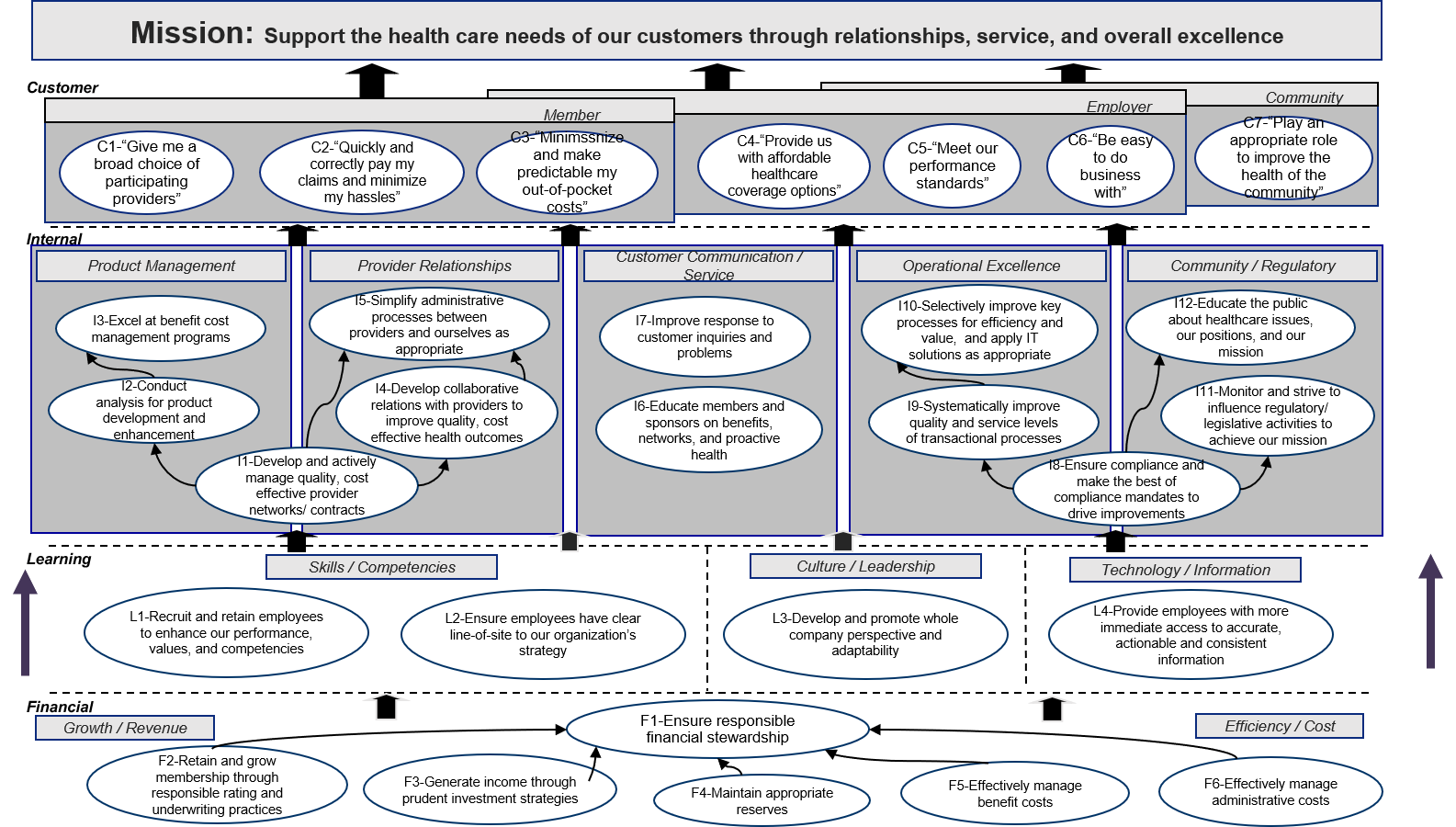 Establish the right set of strategic measures and targets
Healthcare organizations often make the mistake of placing too much focus on one measure. These measures are thought of as individual entities, operating independently of each other. However, by viewing measures as a portfolio rather than discrete fragments, cross-departmental and cross-functional alignment could occur across the organization, leading to optimized performance and efficiency. A healthcare balanced scorecard solves this by creating a holistic picture of organizational performance across perspectives.
Develop operational KPIs and Dashboards
Lack of consistency throughout teams within a healthcare organization often results from the lack of a consistent mechanism to link strategies across different areas of an organization, such as finance versus medical operations. By using the Kaplan-Norton strategic perspectives, a logical management system could be created via an operational dashboard where strategic process objectives to determine underlying drivers and related KPIs (Key Performance Indicators) can be selected. This type of organization ultimately leads to focused more investments and cost savings.
Invest in the portfolio of strategic initiatives
Organizations tend to have either weak or nonexistent processes for tracking their strategic initiatives. This leads to an increase in poor spending choices, often resulting in the difference between a positive and negative margin. By investing in the portfolio of strategic initiatives, organizations can develop a resource allocation process rooted in driving the overall strategy forward. By using the Kaplan-Norton framework, allocation based on strategy is ensured.
By using the Kaplan/Norton methodology to clearly link strategy to operations, healthcare organizations can create sustainable solutions while managing risk for both decreasing costs and increasing medical quality, ultimately furthering their overall mission and values.